Paper Visual Arts Journal Assignments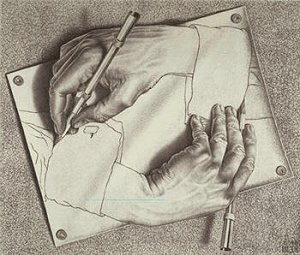 Students, you are requiredto bring your sketchbook and a pencil (with an eraser) that you can sharpen to each and every art class. Your sketchbook is a very important tool to help you be successful in our classes. It is a place where we will develop skills and explore our creativity. We highly recommend a spiral sketchbook approximately 8" x 10" with blank white pages inside. While your book does not have to be spiral, it should be roughly the size of a sheet of printer paper. Your sketchbook cannot be a lined notebook or pages that you simply staple together.
Artists often use sketchbooks to record their ideas and respond to their daily experiences. These assignments will help you build both writing and critical thinking skills, while enabling you to demonstrate your individual creativity. Your art journal is a visual diary of the person you are, today.
This year our format has changed. We will be using your sketchbook more like a journal. You will be able to explore different forms of visual expression to complete your "student choice" entries. We will discuss this assignment further on the first day of class and provide you with handouts. Be ready to create some fantastic and unique pieces that you can be proud of!
All sketch assignment due dates can be found on Genesis.
All sketch images courtesy of google.com

REBECCA O'DWYER DISCUSSES HER ONE-YEAR PUBLISHING PROJECT, RESPONSE TO A REQUEST.
Response to a Request 1 was an online publication I started in July 2016, and which came to an end, for the most part, in June 2017. Over the course of its brief run, I somehow managed to convince the following people to write for it: Kathy Tynan, Kevin Breathnach, Niamh McCooey, Nathan O'Donnell, Lizzie Lloyd, Adrian Duncan, Joanna Walsh, Ian Maleney, Susan Connolly, Jonathan Mayhew, Darragh McCausland, Emma Dwyer, Sam Keogh, Sue Rainsford, Michael Naghten Shanks, Suzanne Walsh, Ingrid Lyons, Sabina McMahon, Eimear Walshe, Dennis McNulty, Fergus Feehily and Niamh O'Malley. However, as I prepared for the belated closing event that took place on the 2 of February at the Douglas Hyde Gallery – presenting three final responses from the artist Isabel Nolan, writer Mike McCormack and poet Stephen Sexton – I was faced with the task of articulating why I started Response to a Request at all. What, exactly, was its aim?
I'm not sure there really was any distinct aim with the project, but let's assume that Response to a Request was set up to address a modest need or even a perceived lack within Irish art writing. Was it successful in this aim? One way of traditionally gauging success is, of course, through a growing or at least stable readership; and, more typically now, through a sustained and visible currency on social media. But the problem is that Response to a Request vanished just as quickly as it appeared. The website is dead and the texts are not available to read anymore. Granted, I knew this would be the case when I first conceived the idea, but this material dearth makes its assessment – as success, or indeed failure – much less clear-cut. On a personal level, there's also something distinctly self-sabotaging about editing a publication that leaves little trace but whispers. Continue reading "Leaving Little Trace, But Whispers…"