If I Was Mayor For The Day Essay
2018 "If I Were Mayor" Essay Contest winners
Statewide winner: Jalia Hardy of Binford Middle School in Richmond (also Region 7 winner)
Region 1: Bryleigh Middleton of Pennington Middle School in Pennington Gap
Region 2: Kaydence Addison of Dalton Intermediate School in Radford
Region 3: Will Schwantes of Daniel Morgan Middle School in Winchester
Region 4: Catherine Selfridge of Buckingham Middle School in Buckingham
Region 5: Gideon DeMarco of Lanier Middle School in Fairfax
Region 6: Maeve Myers of Louisa County Middle School in Mineral
Region 8: Tina Li of the Academy for Discovery at Lakewood in Norfolk
Read the 2018 winning essays.
---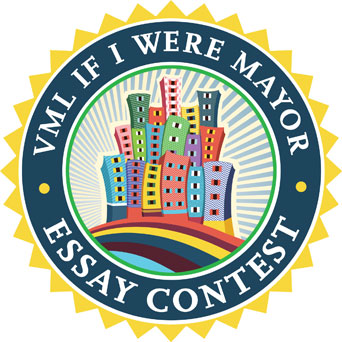 About the Essay Contest
Each fall the Virginia Municipal League (VML) invites all Virginia 7th Graders to participate in its "If I Were Mayor" essay contest. The essays describe what the student would do as mayor to make their cities, towns, and counties great places to live.
Promoting good local government is important to VML, and this essay contest provides students the opportunity to reflect on the important role of elected officials in their own city or town.
Eight Virginia regional winners are selected (see map below).  Winners receive a $150 cash prize and plaque. One statewide winner is selected and receives a $250 cash prize and plaque. VML will be going to the localities of the winners to present the awards at their local council meetings.
Contest Rules
The contest is open to all Virginia students enrolled in the 7th Grade during the 2017-2018 school year.

Each entry must include a completed Entry Formstapled at the top of the essay. (see page 2 of download)

Essays should be typed or clearly handwritten.

Essays must be 200 – 500 words.

Essays must address the subject of what the student would do if they were elected mayor.

Only one essay may be submitted per student.

Essays will be judged based on the following: originality, persuasiveness, understanding of city, town and county services, and proper use of composition and written expression.

Essays must be received at the VML office by Friday, December 22. Winners will be notified in February 2018.

Essays will not be returned.

VML retains the right to publish essays along with the names of each student.

Submit entries to: VML, Attn: 7th Grade Essay Contest, P.O. Box 12164, Richmond, VA 23241.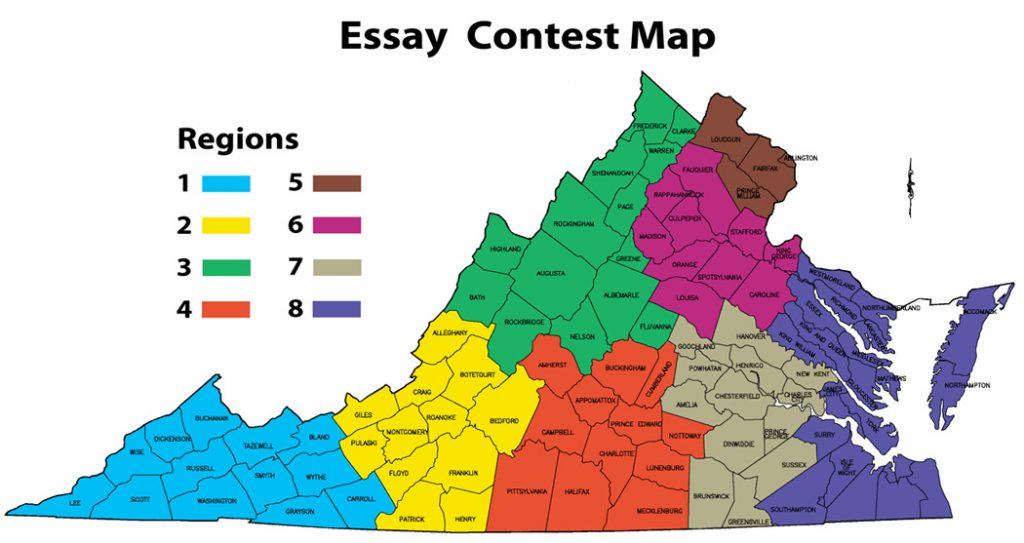 ---
2017 "If I Were Mayor" Essay Contest winners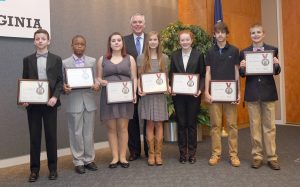 Gov. Terry McAuiffe (center) with the winners of the essay contest:
(L to R) Jerry (Trey) N. Mitchell III, Terrence Massenburg, Skyla Rain, Sadie Dryden, Liv Scappa, Andrew Middleton and Dillon McReynolds. Not pictured: Maha Laiq.
Statewide winner: Jerry (Trey) N. Mitchell III of Lawrenceville
Region 1: Dillon McReynolds of Abingdon
Region 2: Andrew Middleton of Covington
Region 3: Sadie Dryden of Buena Vista
Region 4: Skyla Rain of South Boston
Region 5: Liv Scappa of Falls Church
Region 6: Maha Laiq of Warrenton
Region 7: Jerry (Trey) N. Mitchell III of Lawrenceville (statewide winner)
Region 8: Terrence Massenburg of Portsmouth 
Read the 2017 winning essays.
---
2016 "If I Were Mayor" Essay Contest winners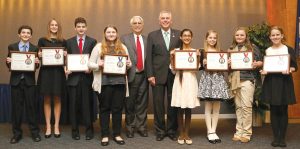 Statewide winner: Lily McClung of Fishersville (also Region 3 winner) Governor Terry McAuliffe presented awards to one statewide winner and seven regional winners of the VML "If I Were Mayor" Essay Contest. The contest, hosted by the Virginia Municipal League, drew more than 1,000 entries from seventh graders throughout the state. Their challenge was to describe what they would do if they were mayor of their hometown. The winners are:
Region 1: Sumer Grace Lloyd of Bristol
Region 2: Simran Kaur Gill of Salem
Region 3: Lily McClung of Fishersville (statewide winner)
Region 4: Grace Coover of Petersburg
Region 5: Evan Lankford of Falls Church
Region 6: Brynley Meadows of Culpeper
Region 7: Alexander Elstun of Chesterfield County
Region 8: Alyssa Levy of King William County
Read the 2016 winning essays.
---
2015 "If I Were Mayor" Essay Contest winners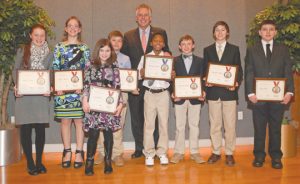 With Gov. Terry McAuliffe are winners (l-r) Sophie Freiling, Adele Masson, Logan Kurtz, Garrett Love, Na'Seem Hopson, Macalister Gordon, Kendryek Wheeler and Bailey Nash.
Region 1:  Bailey Nash of Lee County
Region 2:  Kendryek Wheeler of Roanoke
Region 3:  Macalister Gordon of Winchester
Region 4:  Garrett Love of Buckingham County
Region 5:  Logan Kurtz of Manassas Park
Region 6:  Adele Masson of Culpeper
Region 7:  Na'Seem Hopson of Hopewell (statewide winner)
Region 8:  Sophie Freiling of Williamsburg
Read the 2015 winning essays.
Grade school essays

By Noel Fisher
What I would do if I were mayor? There are so many things I might want to change; I just might not write them all here. If I were mayor, I would definitely change some of the parks so they are safer and more fun. I would change some of the sports complexes so that they are clean and neat. I think I would renovate all the inns, hotels, motels and apartments.
What I would do if I were mayor is simple, there's not a whole lot. I already said what I want to do about renovation and parks and sports, now I want to talk about the law. There are lots of speeders and robbers on the streets. I would definitely pay so-o much more money to police and fire stations. Plus I want to pay some money to hospitals and doctors' offices to save those people who are hurt.
-- Noel Fisher is a fifth-grader at Broken Arrow School.
---
By Louisa Holland
If I were mayor, I would support the smoking ban. I would make sure that children learned about smoking and drugs to be safe.
If I were the mayor, I would give more money to schools for children to learn more. In addition, I would give teachers more money for all things they have done for kids.
If I were the mayor, I would help animals. I would plan another shelter for pets. I would hire people to watch the animals and give them high pay.
If I were the mayor, I would build a new bookstore that sold KU books. I would also sell KU earring. If I were the mayor, I would save the trees. I would make new machines to help trees. If I were the mayor, I would allow kids to be alone in a bus.
If I were the mayor, I would talk to other mayors for ideas. If I were the mayor, I would help kids with hardship. I would also try to get more assistants in the classroom to help kids out. If I were the mayor, I would get more police on duty. That way we will be safe.
If I were the mayor, I would build more day-care centers and baby-sitters. Also, I would build a new school.
If I were the mayor, I would support P.E., art and music. I would keep programs going and make new programs. If I were the mayor, I would be awfully busy.
-- Louisa Holland is a third-grader at Prairie Park School.
---
By Darinka De La Torre
If I Darinka De La Torree were mayor I'd give more money to schools for better equipment. I'd also help out around the community. And whenever I could I'd visit schools to teach a little about being mayor. I'll address important issues and listen to others' ideas to make Lawrence a better place to live. To help the hungry, I'll organize a food drive for the Salvation Army.
The issues I'd state are schools having a tight budget, taxes rising, store merchandise rising, kids not feeling safe at school, teachers not getting paid enough and other important issues. So many things I could do if I Darinka De La Torre were elected mayor.
-- Darinka De La Torre is a fifth-grader at Broken Arrow School.
---
By Brandon Barkley
Before I talk about what things I would change and the way I should be elected mayor I want to talk about the things I love about Lawrence. One thing I love is the parks where kids can go and play and parents can relax and be safe. Another thing I love is the community that we live in.
But the things I don't like about Lawrence is the trash everywhere on the highways and even on the regular streets that we drive on every day. And can you believe the prices in some stores today. I know they have to make money too, but not by taking people's money. I mean $3 for one candy bar! Schools' budgets these days are so small it will be amazing if they could get a single box of markers a year.
If I were elected mayor I would raise money for the schools of Lawrence and give it to them for nothing. And I would take the prices down in the stories. I'll even pick up all the trash on the road and in some parks. Brandon Barkley for mayor it's the best choice.
-- Brandon Barkley is a fifth-grader at Broken Arrow School.
---
By Tressa Ritchie
If I, Tressa Ritchie, were mayor I would do everything in power to make Lawrence a better community for everyone. Lawrence is already a great place but there are a few things I just don't like about it. Lawrence has great schools, a good shelter for the homeless, nice places for kids and adults to go for a good load of fun, and it also has well constructed houses for people to live in.
There are also a few things I would like to change or make better about Lawrence. To make it a safer and better community, I would like to make it so that the homeless could have nice homes to live in, and have a cheap place for them to go for help but still be able to get the right kind of treatments. We should also lower the price of clothes and other important items so that even poor people can afford them. I'd have to so kids could enjoy themselves without being the least bit worried about bullies. You should only be able to make copies of certain things if you had an ID with you. Children 11 years or younger should be escorted by someone 17 or older. If you don't wear a seatbelt and are caught by someone official you will be asked as to why you have no seat belt on, plus you'll be given a ticket of $70-100. That is what I'd do if I were mayor.
-- Tressa Ritchie is a fifth-grader at Broken Arrow school.
---
By Michael Tamerius
If I were mayor I would make it so you can have any kinds of bags for leaves and grass clippings you want. I would continue to support the no smoking rule. I would make sure all of the parks are clean for all children in Lawrence. Also I would make sure the playground equipment is safe for kids to play on.
Some things I would change are like putting things in Lawrence that families can do together. Like a miniature golf course by downtown Lawrence. I could put in an arcade by the southwest part of town. And I would put a Chuckie Cheese. I would put in an ice skating/roller skating rink downtown Lawrence. I would make big park with all kinds of a playground equipment where you could have birthday parties or just go for fun. I would support the school bond issue. As mayor I would read holiday books to kids in school. I would also give schools tours of city hall. I would give a big town Christmas party and a giant Christmas tree where I turn on all the lights on the tree. There will also be an Easter, Valentine's Day, and Halloween party for Lawrence. I will make a bigger homeless shelter with actual beds and a volunteer for the homeless center. I will have volunteers to pick up trash in the city. I would build a brand new video game store where you can rent games or buy games. And that is what I would do if I were mayor.
-- Michael Tamerius is a fifth-grader at Broken Arrow school.
---
Junior High essays
By Leslie Queen
The ballots are in and tallied for Lawrence's mayor election. After months of campaigning Leslie Queen is the new mayor of Lawrence, Kansas. When anyone is elected they have visions. They want things to happen, but communities aren't always up for change. I have visions too, visions of making more ideal centers for youth.
Now of course change takes time. Sure sports and music are big for kids, but what about places for kids to hang out with friends. Lawrence has limited activity. As my first change I would help out this issue. Lawrence is expanding, but entertainment is going nowhere. What about building a bowling alley and movie theater by the north part of town. Kids who live by that area would be able to see a movie and knock down some pins more conveniently. Also, building an ice skating rink would build ideas. Hockey leagues could form along with competitive figure skating. Families and friends could go to the rink for an afternoon of fun. Parents are also concerned about their child's safety while out with friends. These new youth hangouts would provide adult supervision. Parents would like this idea better so they aren't so concerned about their kid's safety. These new facilities would keep kids out of trouble, and open up their minds.
After great times and hard work my term is over. When I was voted in I was very ambitious to get things up and rolling. The visions in my mind became an actual sight. Being mayor means being a Lawrence citizen. All the things that were accomplished weren't done by myself, but with each other. Remember that there is no I in TEAM.
-- Leslie Queen is a seventh-grader at South Junior High School.
---
By Amanda Davidson
If I was the mayor things would be different! I would have fought against the smoking ban, which limits civil liberties. Many people don't want the government to tell them what their business can or cannot do. Not to mention what they as individuals can and cannot to. If you don't want to be around smoke, go somewhere else.
Instead of just making laws that upset people the government should start enforcing good behavior. Police should be seen as good people and regular citizens. If police were on the streets where fights, robberies and other illegal activities begin they could stop it before things got ugly. It's a fact that kids that have a positive adult influence will get into less trouble. If the police were there for kids who might not have other people they could be a role model. If police spent some of their time being on the streets kids could know them as people. Instead of just the officer that caught them doing something bad he would be officer Jesse and a friend who you didn't want to catch you acting up.
Education is not treated with enough respect. Instead of spending money on new homes and new buildings give the money to schools so that the future of Lawrence is ensured! Everyone can agree safety, education, and a brighter future is more important then a big building.
-- Amanda Davidson is a seventh-grader at South Junior High School.
---
By Elle Weber
If I were mayor, I would make sure the city functions on what the city charter says. I would also make sure the state remains clean and unpolluted. What I would do that would be significant is that I would set up many fund-raisers and donate all the money to charities that really need it. For example, donations of cat and dog food and it could go to the animals at the Humane Society. My main goal would be to make sure everyone in Kansas is fed. Also, if I was mayor I would use the money I raised to lower prices on things but that would take communication with all store owners and the treasurer. Those are some of the things I would do if I was mayor.
-- Elle Weber is a seventh-grader at South Junior High School.
---
By Amie King
If I were mayor I would give the money to the school so they could have more room for the teachers. The after-school program could get their money from fund-raisers. By the fund-raisers they wouldn't be taking from the recreations.
If I were mayor I would close some of the banks because there are too many. Everywhere you turn there is another bank. And they keep opening more.
If I were mayor I would take the schools that are closed and turn them into homes for the homeless. Then they would need work so they could live there. That's when I would give them the job of running their own building they are living in.
If I were mayor I would put more parks and recreations in so that when people are board and it is rainy or cold out they could have somewhere to go and hang out with their friends.
If I were mayor I would make Mass. Street bigger by putting more shops in. Then I would put more clothing stores in. I would also put a grocery store in across the river. In the northern part of town. I would put in more restaurant. If I were mayor I would put a limit on how late the people under 18 would be able to stay out on Mass. So the people who want to party can without hurting ones under age 18.
This is what I would do if I were mayor.
-- Amie King is a seventh-grader at South Junior High School.
---
By Michael K. Lineman
If I was the mayor of Lawrence, the changes I would make. The first thing would be the school system. The next thing would be the roads.
I would improve the city education first, that way people could have better jobs. Then people can live in better homes, instead of living on the streets. Then in turn that way more people can have better health care. That way our children do not have to live out on the streets. Also I would give schools more money so kids would be able to get a very good education.
I would also create better roads because; more teens are getting to driving age. Also because the roads have become so bad because of the weather. And it is dangerous of all the potholes, because people can wreck avoiding them. But the main priority with roads is ones where people go to take their kids to school. And even residential streets should be repaired because some are developing sinkholes and wide cracks.
And that's why I would like to be mayor of Lawrence. Those were what I thought to be the major issues for the City of Lawrence.
-- Michael K. Lindeman is a seventh-grader at South Junior High.
---
By Dom Reiske
Just think, if you were the mayor what would you change? Anything from building to changing a rule.
The first thing that I would change is I would reintroduce the bond issue. The main reason for that is because we need a new South Junior High School because South is too small. We also need a better education and I think they should hire new and more teachers. Central doesn't need a new school but they could clean and remodel the inside.
My second addition would be for them to add a Dick's Sporting Goods. They need to add that because there are no good sports stores in Lawrence. If you want a good sports store you have to drive to Topeka or Kansas City. There is even a great place for Lawrence to put it; they could put it where the old Payless Cashways was over by Wal-Mart. The only other sporting goods stores are downtown and those stores are downtown and they aren't very big.
My third addition would be for them to tear down the old Furr's and put an apartment complex there. College students need a place to live and they can't afford houses. Apartments are also cheap. There are not enough houses in Lawrence and that raises the price of them so if you add more apartments, prices might drop.
In the end those are my three reasons. Again they should reintroduce the bond order, add a Dick's Sporting Goods and add new apartments.
-- Dom Reiske is a seventh-grader at South Junior High School.
---
By Matthew McManness
Mark Twain said, "The secret of getting started is breaking your complex overwhelming task, into small manageable tasks, and then starting on the first one."
So I began by speaking with former mayor Mike Amyx and I have made an informed decision on what I would do if I were the mayor of Lawrence. I would work on one major issue: the future of our city. What is needed for a successful future?
Job expansion and an increase in affordable housing will better Lawrence's future. As population increases there is a need for affordable housing and new jobs. The population won't grow withoug these things. Therefore, if we want Lawrence to continue to grow and thrive these essential things must be achieved.
To meet our goal, I will buy the acreage needed for future residential and industrial growth. Varied abodes will allow a person or family tomove into better housing as they become more successful. Then, they can sell their old home to someone else that will start off in the same place the previous owners did.
With the rising price of oil and fuel, nearby businesses would lower gas consumption and in turn increase spending moeny for residents. This would improve the business owner's income by bringing more business and sales.
But the most important thing I would do is follow Mark Twain's advice and find my first small task and build on that foundation.
-- Matthew McManness is an eighth-grader at South Junior High.
---
Copyright 2018 The Lawrence Journal-World. All rights reserved. This material may not be published, broadcast, rewritten or redistributed.We strive to uphold our values for every story published.