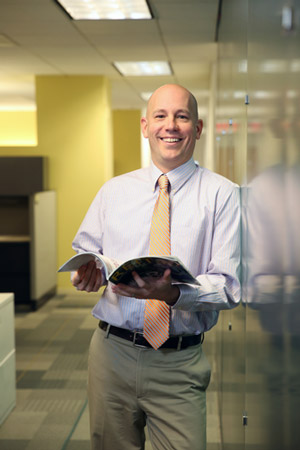 On Valentine's Day I took my wife out to a nice dinner at our favorite local restaurant. With three kids, any meal that doesn't involve chicken fingers or mac-and-cheese is a real treat. 
The place was obviously packed, every table filled with couples of all ages celebrating being together. As I looked around I was awestruck at the subtle glow coming from nearly every table—not of love or candlelight, but that familiar light from a cellphone.
I told my wife how sad it was that these people couldn't disconnect long enough for one romantic meal. That's when I noticed she was texting a message on her phone.
"Sorry, just checking on the kids," she said.
Technology has enabled everyone to be accessible at all times—for better or worse. There are countless examples of times when instantaneous access to call, text or access online information is not just valuable, but essential. Then there is the black hole of technology filled with cat videos, Candy Crush and endless memes. 
But whether it is essential or essentially useless, technology, especially mobile devices, has created a seemingly endless demand for data. That fact surprises no one. My oldest daughter alone could keep Verizon in business. 
What might surprise many outside of the real estate industry is the fact that it would not be possible to meet that demand were it not for certain REITs. 
Without these REITs, that fancy iPhone would be little more than a paperweight. 
As the "Digital Demands" feature in this issue details, the need for more digital infrastructure is only going to increase. I graduated college without ever using email, and now my 5-year-old son receives his kindergarten assignments via text message.  
So whether it is the increased use of streaming video, the rise of digital payments, the continued migration from landlines to cellular phones or the millions of photos shared daily, infrastructure and data center REITs will play an essential role in ensuring that communications providers are able to serve consumers. 
While my kids are doing their part to fuel consumer demand for digital infrastructure, Corporate America is increasingly relying on data center REITs for its information storage needs. As a result, data center demand is skyrocketing and REITs are acquiring and developing new facilities to keep up.
This is just another example of how the real estate owned and managed by REITs impacts the lives of millions of Americans each and every day, helping to fuel the nation's economy and, quite literally, keeping us all connected. 

Matthew Bechard
Editor in Chief
Asset managers have increasingly incorporated environmental, social, and governance (ESG) issues into their company analysis. We would like to share our perspectives on these issues as a leading investor in listed real estate companies.
For more than a quarter century, Cohen & Steers has been investing in public companies that own or operate real estate assets. We were the first asset manager to invest in portfolios dedicated exclusively to real estate investment trusts (REITs) and have been actively involved with shaping and establishing standards for the industry as it evolved. As of September 30, 2015, our assets under management (AUM) in these and other global real estate securities exceeded US $34 billion.
Certain aspects of ESG issues have been integral to the Cohen & Steers investment process for many years, as we believe these factors will increasingly have a direct effect on the profitability of property owners and operators. Corporate governance has taken on a new level of importance for investors since the global financial crisis. Furthermore, the effects of globalization, urbanization, and industrialization have raised awareness of environmental issues, particularly with respect to climate change and how companies are addressing energy consumption and pollution. Meanwhile, a variety of social issues continue to generate conversations and headlines.
To oversee the assessment of these standards, Cohen & Steers established a formal policy for evaluating ESG issues, overseen by a committee that involves representatives from our investment, legal, and marketing teams. Our summary below highlights their activities and describes how we measure a company's alignment with ESG standards as part of our core research process.
Integration of ESG Factors Into REIT Investing
In order to properly assess the companies in our portfolios, our analysts and portfolio managers meet on a regular basis. Their research findings—including any relevant ESG factors—are incorporated into proprietary financial models for each company under our coverage.
Corporate Governance: We believe management quality is a key component in the success of any public company. Moreover, as a pioneer in REIT investing and one of the largest shareholders in many public REITs, Cohen & Steers has, by necessity, advocated for strong corporate governance in listed real estate companies. In the early days of the modern REIT era, governance standards were not defined, and in some cases, governance was poor. However, REIT standards have improved over the years as reflected, for example, in U.S. company governance scorings from Institutional Shareholder Services (ISS). U.S. REITs have an average ISS rating of 4.4 on a 1 to 10 scale (lower is better), compared with an average score of 5.5 for companies in the S&P 500 Index.(1)
Strong corporate governance—pertaining to issues that include independent board leadership and CEO compensation—is, in our view, a telltale sign of quality. Our review of each company's management team structure, board composition, and compensation incentives provides valuable insight into its business activities. In particular, we look for potential conflicts of interest between management and shareholders, as well as their level of transparency and disclosure.
For companies that score well on these issues relative to their peers, with strong adherence to ESG standards, we generally assign a lower discount rate in our net asset value estimates or dividend discount models—all things equal. Those with inadequate compliance might receive a less-favorable discount rate. Companies with "fatal flaws" may even be excluded from our investment universe altogether.
As an example of how we work with companies, we recently engaged with one of the largest REITs in the U.S. market, meeting with the chair of the corporate governance committee, the CEO and the chairman to better understand their philosophy on board compensation and other governance issues. The meeting was scheduled at our request and was the first time they had conducted this sort of investor outreach. These individuals shared their thoughts about why they believe their approach will help add shareholder value. Since the meeting, the company has initiated broader investor outreach and has met with a number of major stakeholders.
We recently took similar steps with regard to a Dutch real estate company. We began a discussion with the company's remuneration committee aimed at bringing a stronger alignment between management and shareholders. Separately, we wrote a letter to the company's supervisory board advising the creation of a "best-in-class" international supervisory board, given that the company was in the process of an international expansion and that many Dutch companies had lately exhibited a poor record on governance matters. We also advocated for a stronger focus on reducing the cost of capital and creating value for shareholders, and suggested ways that equity raisings could be conducted in a more efficient way.
Environmental Concerns: When a company addresses environmental issues as part of its business strategy, we believe it suggests that the management team is focused on the future and on being the best. Our assessment of environmental issues takes into consideration a property's location and age and whether the owner is cognizant of environmental concerns. We also evaluate whether companies spend resources on energy efficiency, based on the belief that allocating resources to this area could lead to lower expenses, fewer risks, and an improved cost of capital.
We express environmental costs and liabilities in the compilation of company projections and valuation models. The better a company scores from an environmental perspective, the lower the discount rate (or investment yield) relative to its benchmark group. These inputs may result in an expected valuation premium for prime or greener properties, or the assignment of a valuation discount to secondary properties not aligned with these standards.
We recently developed an investment thesis on a U.K. shopping center landlord that touched on environmental issues as part of the ESG review. We concluded that while the company still had room for progress on creating an ESG agenda, it had made some impressive moves on the environmental front: 1) efforts made in 2008 decreased energy costs by £1.25 million; 2) 85% of waste is now recycled; and 3) new energy-efficient lighting is currently being fitted in its retail stores. We also made note of visible in-store campaigns that raise awareness among shoppers and retailers of the importance of reusing and recycling paper and other materials.
Social Considerations: Social factors can be more difficult to ascertain, as they do not lend themselves as well to formulaic approaches and cost-benefit assessments. While they do factor into our analysis, we do not rely on litmus tests or otherwise seek social mandates that cannot be justified on their merits from a business or economic perspective.
That notwithstanding, from Cohen & Steers' perspective as a business operator, we recognize that workplace diversity and an inclusive culture can strengthen an organization's ability to deliver the best results to clients and shareholders. Our employees around the world represent a variety of cultures, backgrounds, experiences, and talents. We draw upon these attributes to produce innovative solutions for the clients we serve and to enrich the professional experience of all of our employees.
Promoting Sustainability Best Practices in Real Estate Investing
Cohen & Steers has long been an advocate of industry best practices related to our investments in real estate securities. As part of this effort, we participate as an Advisory Board Member of the Global Real Estate Sustainability Benchmark (GRESB), whose stated mission is "to enhance and protect shareholder value by evaluating and improving sustainability best practices in the global real estate sector."
GRESB conducts an annual survey of real estate entities to gauge industry-wide progress in integrating sustainability objectives. The 2015 survey included responses from 707 companies and funds, including 537 private-equity investors and 170 listed property companies. The survey ranks each entity on two dimensions: establishing specific lines of responsibility for ESG management (Management & Policy); and how effective companies are at pursuing these objectives (Implementation & Measurement). The exhibit below maps the rankings of companies that have participated in GRESB surveys over the past several years.
The results from the 2015 survey reveal that the real estate industry is getting better at establishing clear sustainability goals and implementing them into their business practices, as shown in the chart by a migration of average yearly scores toward the upper-right quadrant. The GRESB survey also shows that listed real estate companies generally scored better than private entities in 2015, similar to the results seen in 2014. This is consistent with Cohen & Steers' expectations given the corporate governance standards and disclosure requirements of publicly traded entities.
In Europe, Cohen & Steers is a member of the European Listed Real Estate Investment Advisory Committee, an organization primarily focused on improving standards of corporate governance, aligning company management interests with those of shareholders, and promoting consistency and depth of disclosure. Our employees also serve on the Reporting and Accounting Committee of the European Public Real Estate Association (EPRA) and are members of the National Association of Real Estate Investment Trusts (NAREIT).
Cohen & Steers lends further support for ESG standards as a signatory to the Principles for Responsible Investment (PRI), a United Nations-backed initiative. Here, we join more than 1,300 asset managers with a total of US $45 trillion in AUM, who share the belief that effective research, analysis, and evaluation of ESG issues is fundamental to assessing a company's investment merit.
Expressing Corporate Governance Views Through Proxy Voting
ESG-related issues are not just a factor in Cohen & Steers' investment process—they are also integrated into our policies on shareholder proxy voting. To address these issues, we have a proxy committee that meets regularly to discuss general governance and to update our formal proxy voting guidelines. Our goal is to effect change in a company's corporate policy if warranted, while communicating our views directly to company management.
Conclusion
In summary, we have long viewed ESG standards— particularly those relating to corporate governance and environmental concerns—as integral inputs in the securities analysis of listed real estate companies. We also see value in our dual roles as industry advocates for ESG standards and active shareholders of the companies held in client portfolios. Not only do these activities promote best practices in a widely held universe of publicly traded companies, but they can also deliver tangible benefits to our investors.